Real estate agents and real estate agencies are always looking for a competitive advantage over their rivals. And Slide Effect gives real estate professionals an opportunity to stand out from the crowd.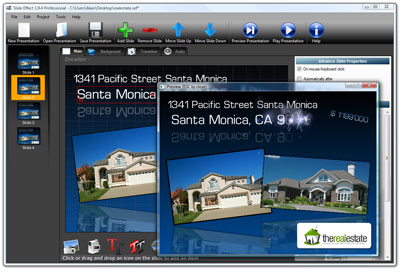 Slide Effect is a Windows application that turns an ordinary set of images into a memorable video display. Without being - or hiring - a graphic artist, it's easy for businesspeople to create dramatic visual effects such as backgrounds, text, and images that twist and turn before landing on your computer screen.
A spectacular video will do a better job of selling a home than a series of static photos. With Slide Effect in their bag of tricks, real estate professionals will be able to create and deliver a more dramatic tour of each home, weaving images, sounds, narration, and transition effects that present the home in the best possible light.
Selling houses makes the owners of real estate agencies very happy. But the main source of joy in a real estate agency is getting a new listing - a new house to sell . Slide Effect makes it easier to convince homeowners to list their house with an agency if that agency can advertise the house using a custom video that has Hollywood-quality graphic effects. And Slide Effect makes it simple to create mini movies for each house that an agency lists.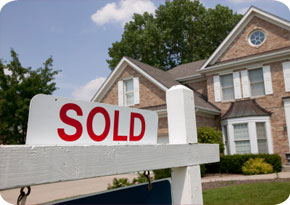 Posting videos made with Slide Effect will draw new customers - both buyers and sellers - into a real estate agency. Once homeowners and home buyers see a video with stunning graphics, music, dramatic backgrounds, and text that has a life of its own, they become clients.
It's simple to place videos made with Slide Effect on the agency's website. In addition, you can burn a CD or DVD containing your Slide Effect videos, and home buyers can share these movies with friends and family.
The Standard Edition of Slide Effect costs $39(US) and includes 23 transition effects, 17 customizable background effects, and 35 font styles. The Professional Edition, available for $99(US), supports an unlimited number of fonts. The Pro version lets you load and save your Powerpoint presentations for use in your Slide Effect videos. It also supports voice-over recording to personalize the real estate sales presentation, as well as a music synchronization wizard to professionally merge your music track with your video track.
With Slide Effect, real estate professionals can attract more home listings, and present them to home buyers in a dramatic, exciting new way. Slide Effect will likely pay for itself the first week you use it.